At Manningham Smiles Dentistry, we provide modern, efficient care. With our full range of services, you can be sure that we'll meet your needs. Many of our patients, no matter what their age, are troubled by missing teeth.
If you have gaps in your smile, you might feel embarrassed to smile for photos or talk to others. You want to regain self-confidence, enjoy your foods again and know you can make a great first impression on people. Sound like you? Read on to discover how we can help you with dental implants and mini dental implants.
A Long-term Solution to Replacing Teeth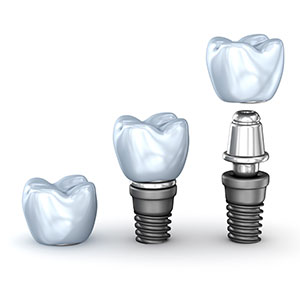 Dental implants have become the gold standard in addressing missing teeth or teeth that are already badly damaged. They are an excellent alternative to dentures and bridges, with greater stability and durability. Patients find them "look like real teeth, feel like real teeth, and they can eat just like real teeth do".
You won't ever have to worry about your dental implant. You can treat it just like you would a natural tooth, with brushing, flossing and having regular checkups to make sure it stays in top shape.
Your Quickest Implant Option
Are you interested in dental implants but don't want to wait for a healing time to pass before having your smile restored? We can still help you. Mini dental implants even work for people who don't have enough bone material for a standard dental implant to be placed. They're minimally invasive with no surgery necessary. Instead, they're integrated into your denture. No sutures and minimal recovery times are just a few of the additional benefits of this option.
Mini-implants are a separate treatment modality to conventional implants. They're best for "stabilizing full lower dentures", which are often loose and uncomfortable, and best suited to elderly patients who might have less jawbone so bone grafts are not necessary. Due to the less invasive nature of the keyhole surgical technique, it's also suited to those who might have more complex medical conditions.
Learn More Today
Our caring team is here to make sure that you love your results. Contact us today to schedule your first consultation!
CONTACT US
* Any invasive or surgical procedure may carry risks. Before moving forward, it is recommended that you seek a second opinion from an appropriately licensed medical professional.