Dental Fillings in Templestowe Lower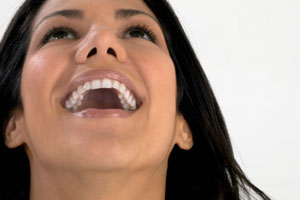 If you have a cavity, it's best to treat it with a minimally invasive, white restoration rather than older metal materials that may pose health issues. White fillings are both biocompatible and cosmetically pleasing, so you're able to enhance your smile's health and appearance at the same time.
Do I Need a Filling?
Tooth decay is a bacterial infection that can continue to grow deeper into your tooth and spread to adjacent teeth. We recommend treating it as early as possible, to preserve your tooth's structure and function.
You may have a cavity if you're experiencing any of the following symptoms:
Pain or sensitivity
Noticeable stains or holes in your tooth
Roughness or sharp edges
Food getting caught
During your exam, we'll evaluate the tooth and possibly take an X-ray to see areas not visible clinically. A dark shadow or sticky surface usually indicates an active area of decay.
White vs. Metal (Amalgam) Fillings
Traditionally, metal fillings have been used to treat decay and rebuild tooth structure. Not only are silver restorations less aesthetically pleasing, but they also contain small amounts of metal alloys, including mercury. Many feel that the risk of a toxin in their filling, along with the inability for metal to bond to tooth enamel, creates a less-than-ideal situation for their oral and overall health.
Fortunately, white fillings are free of mercury and can be matched to the unique colour of the tooth that's being treated. Since the material bonds to the enamel's surface, they're less invasive and smaller than conventional metal fillings.
Keeping Your Smile Healthy
Dental fillings require regular care and maintenance to ensure they last as long as possible. Brush and floss daily and plan to schedule a check and clean at least every six months to catch cavities while they're smaller. As a result, you'll benefit from more conservative (and affordable) treatments.
Schedule Your Visit Today!
Contact Manningham Smiles Dentistry today to book an appointment.
CONTACT US

Dental Fillings Templestowe Lower, Doncaster, Bulleen VIC | (03) 8850 0678