Clear Aligners in Templestowe Lower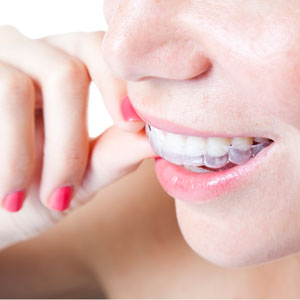 A beautiful, straight smile could be considered one's best accessory. Boost your confidence and beam brighter with clear aligners. Templestowe Lower dentist Dr Leo and the team are trained and equipped to provide a range of clear aligner options to enhance your smile.
ClearCorrect – Less Expensive, Discreet and Simple
ClearCorrect works in the same way as the popular treatment Invisalign™, only ClearCorrect is less expensive. It's a terrific option for busy people who may have special events such as a wedding, for which they would like to remove their aligner. However, ClearCorrect aligners are so discreet that friends often don't even know you're wearing them!
The process is easy, too – simply come in for a consultation where a digital scan is taken and sent to ClearCorrect, who then create and return a series of custom aligners. All you need to do is work through the stages of wearing each different aligner, returning for a quick check between each stage.
Inman Aligner – Efficient, Safe and Gentle for Fast Results
For people looking for a quick solution, the Inman Aligner can in some cases improve smiles in just 9-12 weeks! Inman is particularly suited to those who've had braces previously and have since experienced some shifting in the alignment of their teeth. It can also be used as a precursor to align for cosmetic treatments such as bonding or veneers.
Inman Aligners are worn for 16-20 hours a day and achieve fast results from a nickel titanium coil spring, which powers aligner bows that gently oppose each other. Most cases are completed between 6-18 weeks, but Dr Leo will give you a realistic expectation for your particular needs.
When Are More Traditional Braces Required?
In more complex cases, where perhaps a patient's teeth are quite uneven, or there's just not enough room in the jaw, traditional braces remain the best option. Braces are still recommended for clients where modern aligners aren't suitable or whose oral structure needs an extra push. More complex situations will be referred to an orthodontist.
Schedule Your Visit Today!
Book today and our understanding, nonjudgmental dentists will explain the best choices according to your needs.
All initial orthodontic consultations are free, and payment plans are available!
CONTACT US

Clear Aligners Templestowe Lower, Doncaster, Bulleen VIC | (03) 8850 0678