Children's Dentist in Templestowe Lower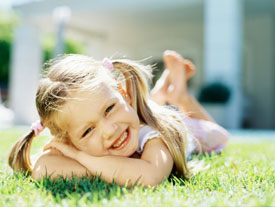 Bright, healthy smiles start young. That's why we love caring for kids' teeth. Our team of dental professionals focuses on providing preventative care along with education on oral hygiene.
Children who practice good oral hygiene habits such as brushing at least twice a day, flossing daily and visiting the dentist for regular checkups can enjoy a healthy smile for a lifetime.
Medicare CDBS Accepted

Manningham Smiles Dentistry accept patients under the Medicare Child Dental Benefits Schedule. If your child between the ages 2-17 years is eligible, they can receive up to $1,052 in dental cover within 2-consecutive years. This makes dental cover for your little one even more affordable.
Learn more or contact us to see if your child is eligible under the Medicare scheme!
Your Child's Eligibility
To find out if your child is eligible for the Child Dental Benefit Schedule (CDBS), please fill out the form below and we will get back to you as soon as possible.
Our Children's Dentistry Services:
Cleanings
Our kind and caring dental hygienists love working with children. During your child's gentle cleaning, they will discuss the importance of good habits like tooth brushing for two minutes at a time and showing them other ways to keep their smile sparkling.
Dental Sealants
The deep grooves and pits of the back adult teeth (molars) are at a higher risk of accumulating bacteria and therefore are some of the first areas where decay will develop. Sealing these vulnerable areas off makes these teeth easier to clean daily.
Exams and X-rays
Routine evaluations are essential to monitor your child's oral development and detect concerns or problems in the earlier stages.
Fillings
Identifying cavities or dental decay at an early stage is particularly important in our youngest patients. We recommend that you bring in your child for regular visits from 12 months of age.
Fluoride Treatments
Because stronger enamel is more resistant to decay, a fluoride application is recommended for children. Fluoride also can reverse early demineralisation in teeth.
Mouthguards
While helmets and padding offer protection while playing contact sports, another piece of equipment is recommended: a sports mouthguard. These custom-made oral appliances can safeguard the teeth, helping to reduce the risk of dental accidents and trauma.
Orthodontic Evaluations
By monitoring your child's bite development, we have an opportunity to offer interceptive services, potentially eliminating the need for more complex and costly treatments in the future.
Schedule Your Visit Today!
We look forward to helping your child achieve and maintain the healthiest smile possible. Contact us today to schedule an appointment. We accept the Child Dental Benefits Schedule.
CONTACT US
*Terms and conditions apply to Free Childs Dental. For eligible children under Medicare CDBS, with cover available under the Medicare schedule.

Children's Dentist Templestowe Lower, Doncaster, Bulleen VIC
(03) 8850 0678