Orthodontics in Templestowe Lower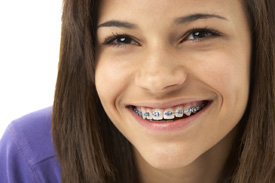 Do you have crowded, crooked or misaligned teeth? Correcting the alignment of your bite can help to lower your risk of common oral health concerns, such as
Cavities
Gum disease
Worn, chipped teeth
Broken dental work
TMJ disorder
Through orthodontic therapy, we're able to help you achieve a straighter smile in the convenience of our family practice. Whether you're 15 or 65, choosing to get braces is something that we feel can tremendously improve the future of your smile's health.
Traditional and Ceramic Braces
Conventional bracket and wire systems are incredible effective when it comes to tooth positioning and realignment. Our practice uses both traditional metal braces as well as ceramic options.
Today's traditional braces use hypoallergenic materials that are friendly to tooth structure. Our younger patients enjoy being able to change out customisable bands each month, to fit their favourite holiday theme or school colours.
Ceramic braces work the same way as conventional orthodontics, except they're made from more aesthetically enhanced materials. While you can see them up close, they're far less noticeable during casual conversations with your friends or co-workers.
Both options provide our patients with the chance to enjoy healthier, straighter teeth with the flexibility of a braces system that fits their personality and lifestyle.
Do You Need Braces?
We recommend performing an orthodontic evaluation on all children by the time they turn 7. At this point, their teeth are beginning to transition to an adult smile and interception can limit the need for more extensive braces treatments later on.
If you're an adult, it's never too late to talk with us about considering the option of getting braces. In fact, if you're considering getting cosmetic dental work or have been struggling with gum disease, we recommend it.
Schedule Your Visit Today!
Contact Manningham Smiles Dentistry today to schedule your no-obligation orthodontic consultation!
CONTACT US

Orthodontic Braces Templestowe Lower, Doncaster, Bulleen VIC | (03) 8850 0678